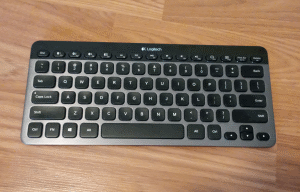 I have a hard time thinking of this as a review.
Technically it is, but I love this product so much I feel guilty referring to this post as a review.
I live on a keyboard.
I work as a programmer, so all day long I'm on a keyboard. I write this blog on a keyboard. I play games with a keyboard and mouse. In short, I spend more time on a keyboard than off.
You know what I hate? On screen keyboards.
You can't touch type on them, they take up a big chunk of the screen, and generally speaking, my thumbs are about the size of at least 4 of their keys.
Since I want to try this year to post more frequently to this blog (hopefully at least once a week), and since I don't want to always write at my desk, I bought a Bluetooth keyboard.
After considerable research I opted for the Logitech K810.
Note: There are TWO keyboards in this lineup, one for PC/Android and one for Mac/iOS.
Top 10 Reasons I Chose K810
I chose the K810 because:
I use Windows and Android
I've had good luck with Logitech in the past
It can pair to 3 devices
Has 3 buttons for choosing device
Has backlit keys for typing in the dark
Rechargable batteries
Large enough to touch type
Small enough to carry
Very light weight
Snazzy looking brushed aluminum finish
Since I've only used the K810, I can't really say if the K811 works equally well. I would assume so, but have not tried it myself.
What I can say is that the K810 has been perfect for me.
It's paired to my Kindle Fire HD and my Samsung Galaxy S4. I can switch between them with a quick press of their dedicated buttons.
It slips easily into my backpack. Paired with the Kindle it can replace my notebook for many trips. That saves my back lugging many pounds…
Simply having arrow keys to navigate a line of text is a HUGE improvement on a device.
Night Writer
The backlit keys mean I can lie in bed in the dark and write.
I've written blog posts on both the Kindle and the phone using this keyboard. The Kindle is obviously the better choice there, but both work.
For serious geek-coolness I can fire up a VM instance of Windows Server and Remote Desktop in for a full Windows experience on my Kindle. Check out my post Windows Touch UI On Azure VM for details.
That would have been practically impossible without my trusty Bluetooth keyboard.
I'd Buy It Again
There is no doubt. If I had it to do over again I'd buy this keyboard in a heart beat.
The only possible negative I can think of is that there are different models for Windows/Android and Mac/iOS.
Most folks I know are invested in one ecosystem or the other, not both, so it's probably not a big deal.
Bottom Line: I'd buy it again and completely recommend it to a friend or family member looking for a top quality Bluetooth keyboard. There are cheaper options out there, but I didn't find any better.
Note: if you follow the links above and buy one, I'll get something like 4% referral fee from Amazon. If you do decide to buy one, I'd appreciate it if you go this route. Your cost is the same either way so if you find my blog useful or interesting, consider throwing me a bone.