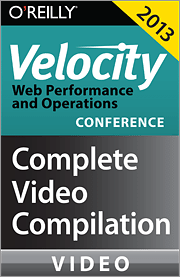 If you can attend one of the Velocity Conferences from O'Reilly, you'll find a wealth of information on speeding up your websites. Top speakers gather to share best practices and lessons learned from running some of the highest traffic sites on the web.
If you don't have the time or cash to travel to a conference, you can get the bulk of the info by purchasing the video compilation for $399.99.
To be fair, some of the videos are available on YouTube. The difference is that the purchased collection has close to 45 hours of presentations. You couldn't see all of them if you did attend the conference in person since many are conducted simultaneously.
For full disclosure, I did receive a free review copy of the Video Compilation as part of O'Reilly's Blogger Review program. Take my opinions with however much salt you feel is necessary.
The range of topics is fairly wide. From speeding up JavaScript to Dev Ops, this conference delivers breadth.
Although I haven't watched all the videos, I have watched a number of them, and they have been high quality and informative. So far I haven't found any with audio issues.
One highlight for me personally was:
"Enough With The JavaScript Already!" by Nicholas Zakas.
In this session he talks about the progression of JavaScript on the web from making things blink to single page apps. His contention is that many people are trying to do everything in JavaScript even when other layers in the web stack could do a better job. Nicholas helps you choose the right tool for the job.
Other sessions range from making your mobile website feel as performant as a native app to a number of sessions on continuous integration. There are also a number of sessions around various databases at scale.
If I were to pick the target audience, I'd have to lean a bit more toward the devops/admin side than the developer side of things. Having said that, there is plenty of good info for web developers. Naturally if developers think about optimizations to make a speedy site, then the devops/admin folk will have a much easier time on their end.
Over all I'd give the video compilation 4 out of 5 stars, bars, thumbs or whatever tchotchkes you prefer for rating purposes. The price isn't cheap, but it is fair for the wealth of content provided. I'd definitely recommend it for anyone who is involved in creating websites that need to serve a heavy load and serve it quickly.