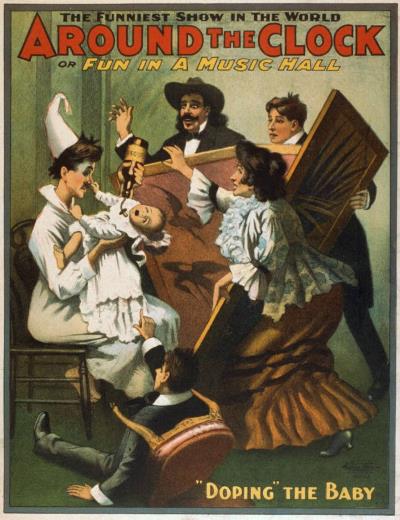 It's time once more for Fun Friday Link-a-palooza.
Fun Photo
Today's picture of Fun comes all the way from 1907 when it was apparently considered hilarious for a new father to poison his children with alcohol.
Just… wow.
I'm pulling these pictures from the Library Of Congress by searching the image archives for "fun."
Rather horrifying that "Doping The Baby" is one of the less offensive images I found.
Many of them fall into the "Oh my God, someone thought this was OK???" category.
Also sobering is the fact that the terrors of World War I were still years away, yet this was "The Funniest Show In The World." Yikes.
Top 10 Pluralsight New Releases
I guess this is the geeky version of someone who watches lots of Netflix…
To be fair, these are the 10 most recent new releases.
You can check out the full list of Pluralsight New Releases, but here's the top 10:
| Title | Author | Release Date |
| --- | --- | --- |
| PowerShell V4 New Features | Jeff Hicks | 23 May 2014 |
| Extending XAML Applications With Behaviors | Brian Noyes | 23 May 2014 |
| Haskell Fundamentals Part 2 | Benson Joeris | 22 May 2014 |
| Microsoft Azure Administration New Features (March 2014) | Mike McKeown | 21 May 2014 |
| Windows 7 Troubleshooting | Mike Halsey | 20 May 2014 |
| SQL Server 2014 DMV Diagnostic Queries - Part 1 | Glenn Berry | 19 May 2014 |
| Java Persistence API 2.1 | Antonio Goncalves | 19 May 2014 |
| Cisco CCNA Data Ctr: Unified Fabric, UCS, & Netwk Svcs | Chris Wahl | 16 May 2014 |
| Cryptography Fundamentals for Java and .NET Developers | Michael Perry | 16 May 2014 |
| Using Functoids in the BizTalk 2013 Mapper | Dan Toomey | 15 May 2014 |
Quote Of The Week
"Writing is easy. All you have to do is cross out the wrong words." -Mark Twain
Top 5 Links
[Business Case for JavaScript and Node.js](http://jxcore.com/business-case-for-javascript-and-node-js-jxcore/) Shared by [Jeremy Likness](https://twitter.com/jeremylikness)

Love it or hate it, you can't ignore it.

This post has some good info about the current state of JavaScript, but I do want to point out that showing percentage of growth for Node versus older technologies might not tell the full story. Percentage of growth of the "new thing" is likely to be disproportionately greater than the "old things."

[Improvements to ASP.NET Web Forms](http://blogs.msdn.com/b/webdev/archive/2014/05/13/improvements-to-asp-net-web-forms.aspx) Shared by [The ASP.NET Team](https://twitter.com/aspnet/)

Yes, Web Forms still exist. Both metric and Imperial crap-tons of sites run on Web Forms. Good to see some love from the team.

[Just What Are 'Tablets'](http://daringfireball.net/linked/2014/05/21/what-are-tablets/) by John Gruber (he came up with Markdown). The Surface Pro 3 was announced this week. John thinks it makes sense. I'm not so sure. For me it's just too damned expensive to carry as a tablet. If I drop my Kindle Fire and break it, I'll get another one. If I dropped my Surface Pro 3 and broke it, someone would have to take my belt and shoe-laces.
OK, this isn't a link, but an embedded video of NASA doing what NASA does best: telling gravity to mind its own business.

Here's my own self-serving two-fer: [Top 5 Reasons To Blog With A Static File Generator](/top-5-reasons-to-blog-with-a-static-file-generator/) Wherein I talk about why you might, but probably shouldn't, use a static site generator like I do.
[Fix For Docpad TagCloud Plugin After Upgrading To 6.65.0](/fix_for_docpad_tagcloud_plugin_after_update/) Wherein I provide an object lesson in why you probably shouldn't. If you do, however, and your site breaks after an upgrade, you might want to take a look at this post.